The commercial sea port of Vyborg is an important transport junction in the Northwest region of Russia. The port of Vyborg is situated on the coast of the Gulf of Vyborg developing into the Gulf of Finland in the Baltic Sea.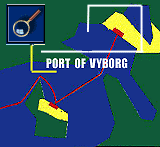 The port is connected by sea, river, railway and road lines with the whole transportation network of Russia, and with the countries of the North Europe and those of the Baltic and the North Seas - by sea and railway lines. The port of Vyborg is the main transhipment point for Russian exports, except oil cargoes, delivered to Finland via the Saimaa Canal which is justly called the main waterway of the Russian Finnish cooperation. Pilotage of vessels from the Gulf of Finland to Brusnitchnoe - the first lock of the Saimaa Canal - is carried out by the Port Pilot Service.

Every day Russian and foreign flag vessels call at and leave the port of Vyborg. The port handles vessels carrying any cargo.
Various cargoes are exported through the port of Vyborg to West European countries: paper wood, coal, ore, chemicals, cellulose, saw logs, steels. From Continent countries - packed and rolled sheet steel, packing board, various chemicals are exported/imported through the port.
Berth of the port are located within the city of Vyborg. The port is linked with the gulf by an approach channel.
The port is open for navigation all the year round. In winter, pilotage of ships into the port water area and back is carried out with the assistance of icebreakers. The icebreaker pilotage for all cargo vessels is free of charge for owners. In the port of Vyborg, as well as in other Russian ports, the state control over safety of navigation of commercial vessels is performed by the Harbour Master with the assistance of the port control inspection and the pilot service.
The port control inspection ensures observance of commercial shipping laws, international conventions, regulations and agreements concerning safety of navigation, protection of sea environment and port water areas and maintains order in the port and approach channels. The port receives waste and black waters and domestic garbage from vessels. All ships calling at the port of Vyborg can be provided with potable water. Fuel, provision, electric power and can have either minor permanent or emergency repairs.

In the port seamen can order necessary all foodstuffs, and at the medical station they can have first aid. Skilled medical assistance at the city polyclinic and the central hospital is at seamen's disposal.